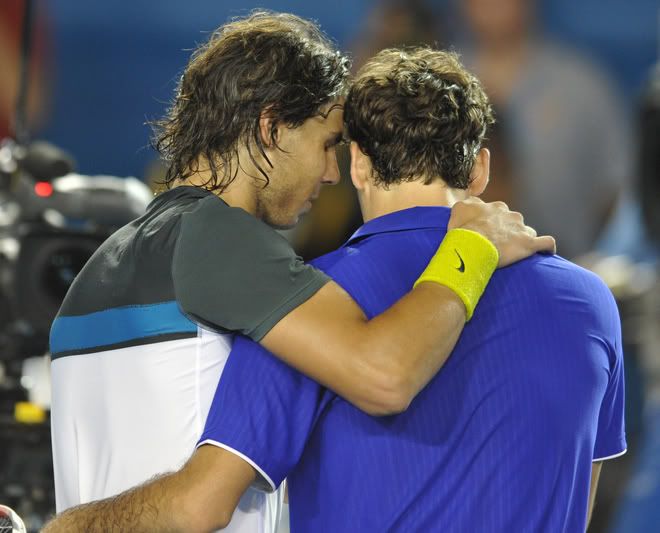 Oh, Roger and Rafa. You both just pulled away at my heartstrings on Sunday.

I stayed up late Saturday night to watch as much of the Australian Open live as I possibly could. I made it until about 4:45 AM, when I realized that my body was shaking from being so tired. I slept for seven hours, got out of bed and rolled into the living room to watch the remainder of the match.

The end of the match--an anti-climactic moment marred by a yelling fan, in my opinion--left me feeling down, and I turned off the TV, so I missed the Federer-crying bit. I finally got up the courage to watch tonight. (It's here, if you want to see for yourself.)

Naturally, seeing my tennis idols all sappy-sad-happy at the same time made me very emotional, and I went on a Google Quest to find out more of their relationship. I don't have anything insightful to offer, but I DID find this incredibly hilarious video which perked me right back up. Pairing a love ballad from Disney's Pocahontas with a slideshow of pictures of two male tennis players playing tennis?? BRILLIANT! I absolutely, positively encourage your viewing of it. If you aren't into the whole 4 minutes, please skip to 3:20 and watch from there.